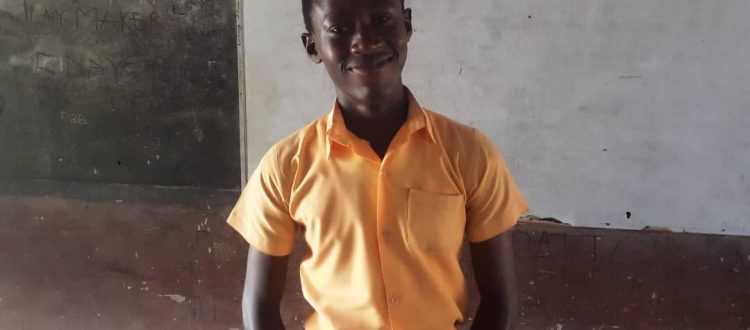 INTERVIEW WITH BECE CANDIDATE ABRAHAM AHUTORVIE TETTEH (PART 2)
Abraham Tetteh is a 15 year old student and a former explorer of Pokuase MA Basic School. This year, Abraham sat for the Basic Education Certificate Examinations (BECE) and The Exploratory caught up with him to get to know how he is preparing and anticipating for the examinations in the Part 1 of this interview. Today, we have him again to tell us about his experience during the examinations and his plans for the future.
Hello Abraham, how are you doing? We meet again. So how did the BECE generally go?
Sir, I am fine by God's grace. Generally it went well. Just as I stated in the first interview that 'I know it will go well when I prepare well', it did go well as expected.
Can you remember some specific questions or incidents that you will like to talk about?
Oh not much that I can remember, but I can say that I tackled all the questions of all the subjects to the best of my ability so I am very hopeful of passing with flying colours.
You said Mathematics was your most dreaded subject. How did you handle that subject?
Yes Sir, although some of the questions were very difficult to be honest, I was able to provide answers to the questions in each section of the paper. I know it is a core subject which will impact my general score so I am praying for the best.
So what are your general impressions about the whole conduct of the examinations?
Our predecessors told us horrible stories about the exams. That put some tension on me but after writing my first paper successfully, I saw BECE to be normal. I can even say the mocks we wrote in school were even tougher and with many questions than the main Exams.
Did you encounter or hear stories of any examination malpractice at your centre?
This is a tough question, one thing I can say is that, no examination is 100 % clean and free from such acts. So yes, I saw some incidents of malpractice going on but the invigilators handled the issues well.
How did you feel or react when you saw such incidents?
I felt bad because incidents of such nature tarnish the image and reputation of the examinations. Moreover these could lead to huge problems for other innocent ones when the entire results are cancelled but because the invigilators handled the issues well, it was brought under control.
What are your choices of Senior High School?
I chose Presbyterian Boys' Secondary School, Legon; the current champions of the National Science and Maths Quiz, I selected Odorgonno Senior High, Kpando Technical and St. Johns Grammar too but it is my fervent prayer that I get my first choice.
Do you have any reasons for your choice of schools?
Sir, mainly because Presec Legon is the best school in Ghana so attending such a school to read General Science will give me the opportunities that other schools may not be able to provide.
So what have you been doing after your last paper?
At the moment, I have been helping my parents at home but very soon I will go for ICT classes.
So what are your plans after Senior High School?
I hope to further my education as far as I can so that my family, society and Ghana will benefit from my knowledge. I believe that every individual has the potential to be the best they can be if they get adequate opportunities in life.
What are your parting words?
First of all, I want to thank God for helping me complete Junior High School successfully. I also wish to thank my parents and all other stakeholders of my education for the investment they have made in my life. I pray that I will become a better person in future so that I repay them. Thank you.
Interview by Saviour Okine