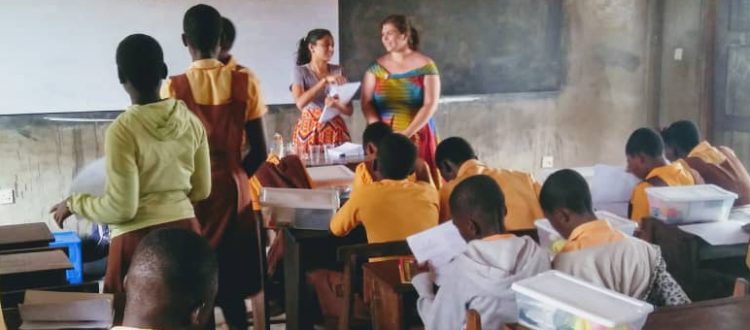 Meet Sarah: 2018 intern from STEMKit, Wellesley College.
We are delighted to have Sarah join us in Ghana this "summer". Here's her first blog. Read more about her partner from STEMKit, Tabi, in last week's blog here.
Welcome readers! If you do not already know me, my name is Sarah Shireen Moinuddeen and I am from Houston, Texas, USA. I am a rising senior at Wellesley College located in Massachusetts, USA. In my 22 years, I have lived in 7 states and 2 countries! I am also very lucky to have travelled internationally with my family – The United Kingdom, France, Belgium, Spain, India, Morocco, Qatar, United Arab Emirates, and most recently, Mexico.
At Wellesley College I primarily study the Biological Sciences, but I have also taken classes in Ethics, Psychology, Sociology, Art History and Creative Writing. After graduation, I aspire to earn a Master's Degree in Public Health and concentrate in women and children's health; I subsequently hope to attend medical school. I am determined to one day provide women with more information and options concerning their reproductive healthcare, as well as improve women and young children's medical care in politically, economically and medically high risk environments.
In my free time, I am passionate about writing poetry and spoken word; my goal is to publish a collection in the next couple years! I love writing about the relationships we have with ourselves, our families and our cultures. Catch me every weekend performing at one of several open mics in Boston and Cambridge! Aside from poetry, I am also Editor-in-Chief of The Wellesley Globalist, Wellesley College's International Affairs publication, a volunteer at Boston Children's Hospital, and most importantly, the Biological Sciences Curriculum Development Team Leader for STEMKit, a joint student-led organization between Wellesley College and Wellesley Centers for Women focused on sustainable science education!
With STEMKit, formally known as SeedKit, I have had the opportunity to develop aspects of the Biological Sciences curriculum; next year, as Leader, I am excited to charge the team to develop novel and innovative experiments to teach Biological concepts, focusing on the avenues by which the discipline pulls from Chemistry, Physics and Mathematics to create a holistic understanding of life and medicine.
This summer I am very excited to intern with The Exploratory; the prospect of working first-hand with girls and young women to assist them in their explorations into STEMM (a second M to stand for Medicine; isn't that exciting!) is invigorating. I was prompted to work in conjunction with The Exploratory due to its grassroots approach to education and sustainable community leadership; it is my opinion that I, and any member of STEMKit, can do the most good in girl's education when we are working in partnership with leaders in the community who know the social and economic structure, education system and its needs, and the girls themselves.
Tabi Silver (my fellow intern) and I hope to assess the protocols we have brought with us to Ghana, meet with teachers to create a curriculum for Basic and Junior High School students, as well as roll up our sleeves and get down to teaching some cool science concepts and experiments to enthusiastic students. This summer we are excited to cover topics including: genetics, reflexes vs. reactions, acid-base reactions, pH, conservation of energy and acceleration.
While interning in Nsawam, I am looking forward to meeting everyone in The Exploratory Team (Priscilla, Favour, Christian, Saviour and Connie), as well as leaders of neighboring NGOs. I am also excited to interact one-on-one with many of the students The Exploratory mentors and hear about how we, STEMKit, can better fulfill the needs of their classrooms and science clubs. Already, we have met Mary and Rite, confident students who attend a nearby school, who have welcomed us and spoken to us about their experiences in and outside of the classroom.
I am also excited to fully experience the many facets of Ghana's human and physical geography – its food, language (Twi), clothing, art, history, nature and architecture. Thus far, Tabi and I have had the pleasure of observing a local wedding, eating Ghanaian food, attending an invigorating church service, wearing beautiful clothing crafted by Portia (a local seamstress and friend of The Exploratory), getting lost in the local market, etc.
The best facet of Ghana is by far the people: never have I met a community of individuals who have made me feel so welcome in a very foreign land. Everyone I have met, from Connie (the founder of The Exploratory), to Priscilla, to Portia, to the many children shouting "obroni" (foreigner) in the streets, and to the market women selling us garden eggs and oranges, I am intoxicated by the people and the kindness they offer. Meeting everyone here motivates me to absorb as much of Ghana as possible and get down to business teaching adventurous and curious young women in the upcoming months.
With Anticipation,
Obroni Sarah Shireen