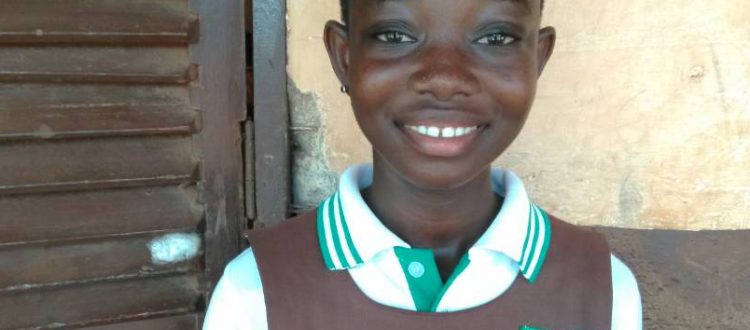 MEET EXPLORER FRANCISCA ADARKWA
Francisca Maame Esi Danquah Adarkwa, a 14 year old JHS (junior high school) student in Accra, Ghana, is one of the most dedicated members of the Exploratory club in her school, and looks forward to staying with the Exploratory till her final year. Francisca is the only child of her parents and has it in her heart to make them proud by learning hard to make her dream of becoming a software engineer a reality.
How long have you been a member of the Exploratory club?
I have been a member of the Exploratory club for 3 years. I joined the club when I was in Primary 5 and currently I am in JHS 1.
How has your involvement in club activities impacted your academic life?
The club has helped me in various ways. First and foremost, I have acquired more knowledge in the use of computers and coding. Secondly my love for science has been intensified. I can now build an electric circuit. I have also broadened my knowledge on body systems and most recently the types of soils and their characteristics among others. This knowledge acquired has gone a long way to impact my academic life positively [as many of these topics are part of our curriculum].
What career do you want to pursue and why?
I want to be a software engineer. I chose this career because I want to bring my creativity to the forefront and make the world a comfortable and easy place to live through programming.
Did the role model visit program play any role in helping you arrive at this career choice?
Yes! The Role Model Visit really did help me and in fact helped me confirm my decision to pursue a career in software engineering. During the AirtelTigo tour [last month] I had the chance to meet many female engineers and this really motivated me. Also I realized that females can pursue any science related career if they set their minds to it.
Did you take part in the just ended Design Challenge Program?
Yes I did!
What did you learn from your participation in this program?
I learnt that as a student, you need to learn hard and develop models out of the things taught in class.
Do you have any message for the staff of The-Exploratory, teachers and your colleague Explorers?
I will like to say a thank you to the Exploratory staff and my teachers for this awesome opportunity to learn. I will urge all my colleagues to utilize this opportunity given to us to become better people in our communities and the nation at large. Let's learn to explore and make impact. Thank you Dr. Connie Chow, Madam Caro and Ms Favour for your immense support, La wireless 2 Explorers love you all!