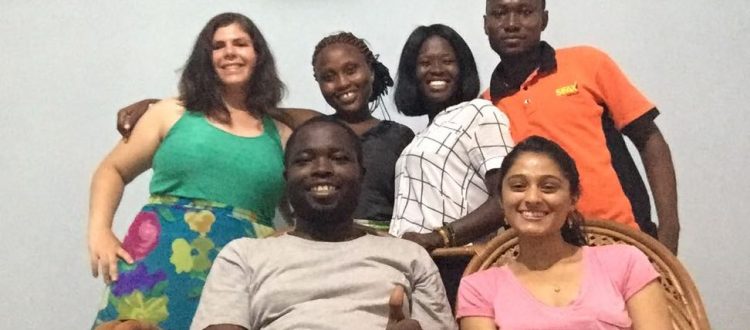 Introducing Tabi, 2018 STEMKit intern.
We are excited to welcome our two new interns from Wellesley College's STEMKit project (previously SEEDKit) to Ghana. This is the 3rd year of our partnership with this amazing student-founded and -run project. During the school year, members of the STEMKit team create and revise hands-on learning modules, based on discussion with teachers the previous year and our input. Interns spend about 8 weeks working with a few of The Exploratory's partner schools, consulting with teachers and testing the activities they have developed with students in Exploratory clubs and in formal classroom environments. This year, Tabi and Sarah will be working with the schools in Nsawam to test 9 new activities, conducting evaluation, and helping us with the teacher training in August. Please meet Tabi, or as she now calls herself, Obroni Tabi !
Tell us about yourself.
My name is Tabitha, but you can call me Tabi! I am a rising junior at Wellesley College, majoring in Biological Sciences. I study biology because I find so much beauty in the nature of things. The intricacies of our natural world fascinate me.
I am originally from Anchorage, Alaska, so I grew up with mountains, forests, and the ocean all nearby. Growing up, I always wanted to be outside whether I was fishing, kayaking, hiking, backpacking, camping or just exploring. Ever since I could speak I was expressing my curiosity for the world around me, asking questions and questioning the answers. This state of unsatiated curiosity has only increased as I have learned more about biology.
Is this the first time you have been outside of the US? If not, where have you travelled to?
I have been lucky enough to have travelled to many stimulating new places. I went to Ecuador and the Galapagos Islands to explore the unique biological systems that inspired Darwin himself. I also went to Nicaragua to volunteer. This trip had such an impact on me by allowing me to realize how much I enjoy helping others while learning about their culture. The feeling of being part of something so big and the joy that I could provide to the communities was extremely rewarding.

What prompted your interest in working with The Exploratory?
I hope to work with children for the rest of my life either as part of my career or as volunteer work in my daily life. Children inspire me because they are like blank slates, originally free of social constructs and ideals. They are humans at the purest and rawest form. When I work with children I see their curiosity and imagination constantly evolving. Every experience is new and everything is interesting to them. This way of being tends to dull over time, yet my recognizing this dulling and actively fighting against it has kept the childlike curiosity, that is necessary for science, alive in me.
Children are so capable of learning science because they are motivated to find answers to their questions. If the potential is there, the opportunity needs to be there for every child.
That is why I am here and working with the Exploratory. I believe that the Exploratory is opening the field up to so many children, by making science a guided and stimulating journey not just rote memorization. Through experimentation, students' curiosity can flourish and science appears more approachable. The last thing that a student needs when trying to learn is an additional barrier: the inability to realize a concept they could be interested in.
What were you working on with STEMKit this past year?
I am the Creativity and Marketing Director of STEMKit which means that I am responsible for a team of individuals who design the physical kits and manage the image and functionality of the kits. It is important to me that STEMKit matches the purpose of the kits to the needs and wants of the communities we serve. Since STEMKit is a fairly new and growing student-led organization, we have a lot to learn about the people we serve.
What do you hope to gain from this internship?
One of my goals of coming here was to just immerse myself in the culture, history and language. I speak both English and French (for almost 9 years now). In Ghana, French and Twi are spoken along with English, like French and Spanish are big in the US. So my French has helped me communicate with non English speakers like our neighbor. I have also been learning Twi in order to respect the people here and make communication smoother between our two cultural worlds.
Priscilla brought me to her clubs in Pokuase, where I got to meet the teachers in six of her schools along with many students from all six schools. They were all very excited to see me and I felt very welcomed.
The individuals here in Ghana are some of the most friendly, kind and sympathetic people I have met.
The students in Nsawam aren't as well versed in English as the students in the other areas covered by the Exploratory so it will be helpful to know some Twi to interact and relate to the children that we will be working with in the clubs. I add to my Twi phrase book each day and I am starting to understand some parts of conversations I overhear.
I want to learn the culture and the way of life because it is important to have that background to make concepts relatable to children who have grown up here.
What are your experiences and impressions of Ghana so far?
Exchanging culture with my colleagues has been a very important part of my introduction to Ghana. So far, I have fully embraced life in Ghana. Sharing conversation and meals of traditional food like fufu, ground nut soup and jollof with Portia [our board member's wife, and Exploratory staff members] Priscilla, Saviour, Christian and Favour. Ghanaian time is very different from American time. Here, wake up time is before 6 am and the pace of the day is slower as it is scheduled with time to relax, eat, and enjoy the company of the people around you. Over the weekend Sarah and I went to a wedding and a church service, exposing us to some of the Ghanaian traditions and culture. I have been enjoying time with the children I have met here as well: George, Metise, Diotima, Mary, and Right, have been very fun to talk to and play with.
What do you plan to accomplish in the next few weeks?
Besides playing with babies and children and visiting with my colleagues and new friends in Ghana, I have been hard at work editing protocols and testing each procedure with Sarah. Over the next week, she and I plan on meeting with the basic and JHS teachers from two of the Nsawam schools to learn more about the background knowledge levels of the students in each of their clubs. We plan on discussing the nine STEMKit protocols with teachers Rose (basic) and Issac (JHS), and determining which protocols fit best with each level. Once this is done we can revise the pre- and post- surveys to make one for each level that focuses on the specific experiments conducted by students in a certain level.
The 12 kits can also be divided for each level: 6 with materials needed for the protocols that will be conducted by basic school students and 6 kits that contain the materials for the protocols that will be conducted by JHS level students. I am looking forward to meeting the students in the Nsawam clubs, and beginning our protocols. If there is an overwhelming moment of frustration, I know that I will be motivated by the children who I get to teach and learn from throughout my time here.