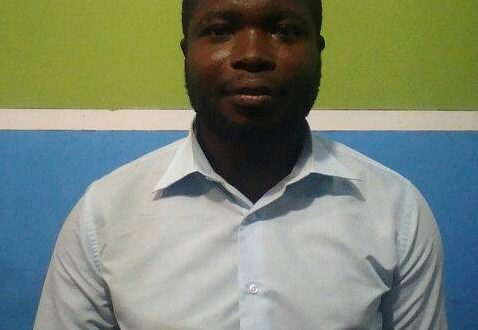 Up Close with Saviour Okine, Program Manager
Tell us about yourself
I am Saviour Okine, a lover of science and education. I like reading but not an avid one. I am a product of the Presbyterian Boys Senior High School and Kwame Nkrumah University of Science and Technology where I obtained a Bachelor of Science degree in Agriculture (Agricultural Biotechnology). I am also a liberal thinker and could be funny sometimes. I love nature and I believe in serving humanity. I am a fun loving person and prefer hanging out with friends or engaging in church activities. My love for science is huge and it's fulfilling to see the joy on people's face especially students during amazing science moments. Though I have a Ga ancestry, I hail from Bawjiase in the Central Region. I am the second child of my parents and I am mostly proud to be a member of such a lovely and supportive family.
Share a brief history on your engagements prior to joining the Exploratory
I started volunteering in my second year at the University and I have never looked back with regret. Volunteering, to me is a way of life! I love it and will forever do. I volunteered for Vodafone for a year and also volunteered on a partnership project between Cadbury and World Vision in the Western Region. After school, I worked at Ghana Atomic Energy Commission for close to two years. I later worked in Kumasi with LAB_13 Ghana Project for another two years before joining The Exploratory.
How and when did you join The Exploratory team?
I joined the Exploratory last year August (2018). I responded to a job vacancy forwarded to me by a good friend of mine. I put in my application and relocated to Accra from Kumasi when the interview was due. My referees did a good job in giving good testaments of me to the founder of The Exploratory.
Definitely before joining the team you had your own expectations. Have those expectations been met?
Well, I didn't expect much apart from getting the opportunity to impress with what I love doing – transferring scientific knowledge through a more practical and a fun-filled approach. Already, the expectations have been met but new terms come with new avenue for improvement so I am looking forward to working on that.
How do you find other members of your team?
They are cooperative and very accommodating. At first I was a bit reserved at meetings because I didn't know what my new colleagues would think of me but it's not so anymore. I like them as much as I think they like me.
By assessing yourself, what do you think you have brought on board to add to the efforts of your other team members?
I think I have brought a sense of ownership. This I can say, The Exploratory's program content is now more localized than it was before. Also, this term's activity is agriculture inclined so I am playing a critical role in putting the structures in place. Also I have been influential in the handling of affairs of some stakeholders of this organization. Overall I can say I am having a positive impact on the team.
You are in charge of special events, such as role model visits and the design challenge. How has the experience been so far?
So far, I can only appreciate the strides and the foundation that has been laid for me to build on. It's been effort and fun all mixed together. It gets me to utilize resources and skills that I hardly thought I possessed.
You played an instrumental role in the just ended 'Solve for Ghana' Design Challenge, what is your overall impression of this year's event?
Being a first timer, I must say it was an amazing one. The support was massive from all avenues, the students' participation was overwhelming and their ideas were full of ingenuity. They made me wish I was that young to enjoy the opportunities that come with being an Explorer. I was impressed because, I received very few concerns which were easy to address.
Do you have any message to the teachers and young explorers?
I have only four words for them. I love them all!