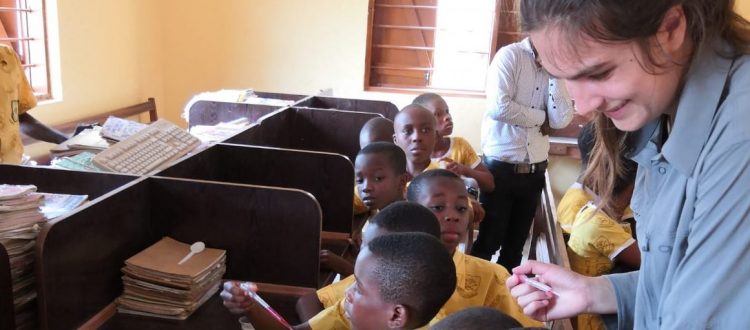 Intern spotlight: Emma Miller.
Hi y'all, my name is Emma Miller, although at this point, I answer to Amma, Emma, White, and Obroni, so take your pick. I come from a family of unruly mountaineers and as a general rule none of us say no to adventure, any food ever offered, or dares (even the really irresponsible ones). I am currently entering my senior year in Wellesley College and I am a Chemistry major.
Angelina and I initially began our time in Ghana by meeting with teachers who had used STEMKit previously or may be interested in STEMKit in the future. From Nsawam to Pokause and from Berekuso to Accra we traveled to schools in swaying trotros and memorized footpaths through back streets to each school the Exploratory partners with. Each morning we were greeted with enthusiastic, intelligent students and warm, passionate teachers.
I ended up in Ghana through an organization called STEMKit. STEMKit designs a kit every year that contains practicals designed for students to fit their science curriculum. This year our kit contains two chemistry experiments, one physics experiment, one biology experiment, and one math game. STEMKit is partnered with the Exploratory, and we work with the science teachers that teach Exploratory science clubs to improve our kit every year. This year, Angelina and I have come to Ghana to workshop with teachers to continue to improve STEMKit as a resource for Ghanaian science students.
Collaboration with local teachers
After visiting each school, we began by workshopping with each of the teachers. We reviewed each STEMKit practical so teachers would feel comfortable teaching and using the kit in the classroom or in their Exploratory club. Then, we asked for each teacher's expertise and opinion. We wanted to know whether STEMKit was actually useful tool or whether it was a product that had missed the mark and was impractical. How could we improve STEMKit? Were the practicals aligning with their students' curriculum?
Their feedback was invaluable. Most teachers found that STEMKit was indeed a useful tool, but for the majority of JHS teachers, their students were far beyond the curriculum presented in STEMKit. Most JHS students had already studied pH indicators, density, and osmosis. We discovered that STEMKit was most useful and geared towards primary students. With this knowledge, we began to workshop with teachers to improve STEMKit for JHS students. We wanted to know, what are the important concepts that they cover in the classroom that need to be seen to be understood? What practicals would they like to see in the future? Sub-cellular structures in plants, the digestive system, the respiratory system, astronomy, water systems and states of matter– their ideas set off ideas of our own. Diagrams with Velcro or magnets, foldscopes, simple chemical reactions. Angelina and I were buzzing with new ideas and excitement.
With increased meetings and collaboration, work began to pick up. Angelina and I called in with our advisor at Wellesley College to keep her updated of our findings. We adjusted curriculum and the way we presented material. We met with teachers who are no longer part of The Exploratory but are attempting to start new Exploratory clubs at their schools.
When we had free time, we tried Ghanaian dishes and met neighborhood friends and family. We planned adventures, such as traveling to Accra to explore while Priscy attended an educational conference.
Balancing development: Jamestown
Angelina and I traveled to Jamestown where a local teacher, Samuel, showed us around. He talked about Chinese investment in "revitalizing" the Jamestown port displacing the population of Ga people who lived there on the coast. Samuel walked with us to the edge of the port, winding our way through homes and shops, past hand-carved fishing boats, and the local school. We wandered past people he had known since his childhood days, when his grandfather was fishing on the coast, and up onto the stone walls above. As I looked across the small city on the sand, I wondered where they would all go when development began.
Did you say 90 students?

In the middle of June, Exploratory clubs began inviting us to run practicals with their students. The largest class of students I have ever worked with previously, was a class of fifty excited six year olds. The largest class we had here was a class of over ninety Junior High School and Primary school students… I have a massive amount of respect for teachers here. They do an incredible job with their students, despite large class sizes. And I like to think that our ninety-student class ran rather smoothly, even though once students had materials in their hands the excitement levels topped the charts and it became difficult pulling the class' focus back to the front. But, all of our students were focused and engaged, and they did an excellent job.

From JHS to Primary level, students proved to be astute, enthusiastic scientists, and we enjoyed working with them.
Destination: Boti Falls and Senchi
Angelina and I settled into a routine, meeting with multiple schools every week. As work with the Exploratory picked up and our first free weekend loomed, Angelina, Priscy, and I planned our first big adventure. Destination: Boti Falls and then Senchi. Saturday morning, we woke up and fried plantains, scallion pancakes, and gizzard with onion and chilies, and then we moseyed on down to the trotro station.
Despite the three-hour travel time, Boti Falls was totally worth it. The size of the tree we saw!
Look at this!!!
Left: This tree was massive and literally one of my favorite parts of the day. Right top: Priscy and Angelina. Right bottom: I dance terribly, Priscy not so much.
Adrenaline-inducing trotro ride, and thoughts on peace
I will say, I usually feel pretty comfortable on trotros. Rush hour in Boston is much scarier than any of my experiences in a trotro, but after Boti Falls we definitely felt we risked our lives on a trotro. The trotro staggered up the switchbacks of a mountain and careened down the other side, and at one point I was pretty sure the car was on two wheels while the driver gestured to his passenger with his hands and steered with a knee. But (somehow) we made it in one piece, two and a half hours late, to our next destination – Senchi and Priscy's friend Mustafa.

Mustafa took us out onto the river. He pointed out canoes, where the President of Ghana was staying at the Royal Senchi Hotel, and a bridge that separated the eastern and western regions.
It was too short of a visit, but the food we found on the way home made the hours in a trotro worth it. We ate snails with onions and chillis, fried shrimp, and meat pies. And as the pavement slipped by beneath the wheels of our trotro and the sun set, I thought ahead, beyond the weeks we have planned for practicals and teacher trainings, to a place thousands of kilometers away.
I thought about how time is fluid, and it feels like I stepped off the plane just days ago when in reality I only have a few short weeks remaining in Ghana. I thought about my coming graduation from university this year, and how I hope to obtain a Masters in Research before I apply to medical school and how all of that seems too soon and also far too distant.
I thought about how I have spent the last three years at Wellesley College balancing research in a nanochemistry laboratory, riding for the equestrian team, working three jobs, crying in the library, shadowing and volunteering in healthcare centers, and developing chemistry curriculum for STEMKit, and after all of that, I have discovered that in Ghana, amid the constant bustle of vivid life and humanity, I feel at peace. Engaged. Content. I realized in the darkened trotro that returning to the Wellesley College may be just a bit more difficult than I expected in the best way possible.
I will certainty miss Ghana when I leave, and I thank everyone who has made my internship what it is.
— Emma