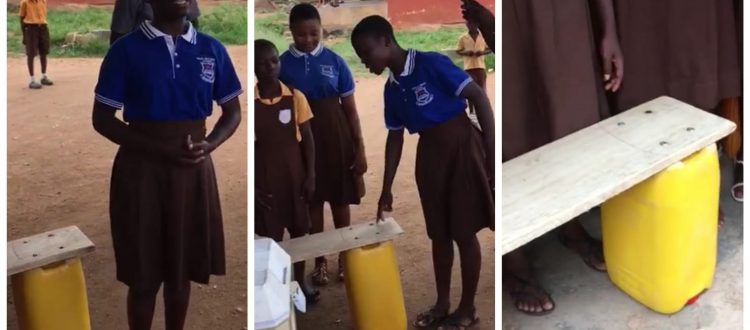 For their final term, Explorers were asked to come up with a project to benefit their community. The students at this school used design thinking skills to identify their own problem statement: Students who purchase snacks from these shop owners during recess do have a place to sit. They asked around and knew that students will be more comfortable and there will be more sales if such seating were available.
As they brainstormed on the solution, some remembered the Accra: Waste Art exhibit at the Museum of Science and Technology where this year's design challenge final was held back in April. The exhibit included wall hangings, furniture, clothing, bags etc that were made from discarded bottles, water sachet bags, barrels etc.
We were impressed that they have absorbed what they could from their environment – the museum exhibit in this case, which they voluntarily visited while waiting for their bus – and combined it with the skills they have learned to tackle a challenge in their own environment.
As a low-cost solution, the students took discarded gerry cans (yellow) and collected money to purchase wood and bolts. They designed, measured, built and rebuilt benches. They explained what they did, and proudly presented three of their final designed pieces to the shop owners, seated, who run the canteen at the school.
This is what happens when we expose children to new places and ideas.
We will be amazed. Everyone benefits.