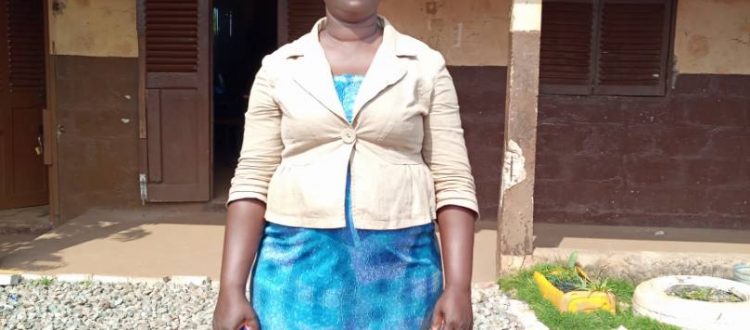 SPOTLIGHT ON CAROLINE AMI SENU
Having spent six years promoting the cause of gender equity in science education (formerly under AWAP and Science Club), Madam Caro as we call her, remains one of our cherished and active club facilitators. When asked why she chose to become a teacher, her most consistent reason is, 'I have a great passion for teaching and to take care of children'. This indeed is evident in her relationship with her students. Mrs Caroline Ami Senu has a degree in Technology in Education from the University of Education, Winneba. She is married and has five children: four girls and a boy.
How did you join The Exploratory?
I got to know about The Exploratory through a friend of mine, Madam Rebecca Gariba. I joined the club after my friend introduced me to Connie as a science enthusiast. I had already started a science club in my school and this I believe confirmed how passionate I am about science. I later invited Connie to see some of the activities of my science club, she later invited me to one of the teacher training workshops and that is how it started.
How long have you been with The Exploratory and what is the size of your club?
It's been exactly six (6) years since I joined The Exploratory [in its evolution]. I have about 50 Explorers in my club now, of which about 90% are girls.
I presume you must be one of the earliest club facilitators The Exploratory ever involved. Looking back, how would you describe the club then and now?
Honestly, The Exploratory is the best club I have ever worked with in terms of training, activities, competitions and sponsorship. Actually six years ago The Exploratory was doing a great job but now the organization is doing marvelously well!
You have had the opportunity to attend quite a number of the August Teachers Training workshops. What has their impact been on you as a teacher?
It has helped me develop new ideas and greatly improved my way of teaching. I have become more concerned about helping children to explore, helping them deal with timidity and encourage them to be vocal and courageous. It has also equipped me with the necessary skills and strategies to boost the interest of the students in science to help them pursue it to the highest level.
Having been with the club for that long, several batches of students and explorers have passed through your hands. Do you think there has been a significant increase in the number of Explorers who want to pursue science related courses in senior high school?
I remember about five girls and three girls from my previous school, Rangoon A and B, who chose to pursue science in senior high school. In my current school, La Wireless '2' JHS, 3 girls and a boy chose to pursue science in senior high school.
Now to our special programs. How has the Role Model Visit Program impacted the academic life of your students?
At least they now know that science is not only limited to the classroom but actually several professions can be carved out of it. It has also boosted the confidence of the girls to go in for science, technology, engineering and mathematics related courses and professions in future.
Any advice to your colleague club facilitators and our young Explorers?
My advice to my colleague teachers and club facilitators is that they should take the roles assigned to them seriously and work hard to achieve our target. We should also know that whatever we do for the children is an investment for ourselves, the school, the community and the nation as a whole.