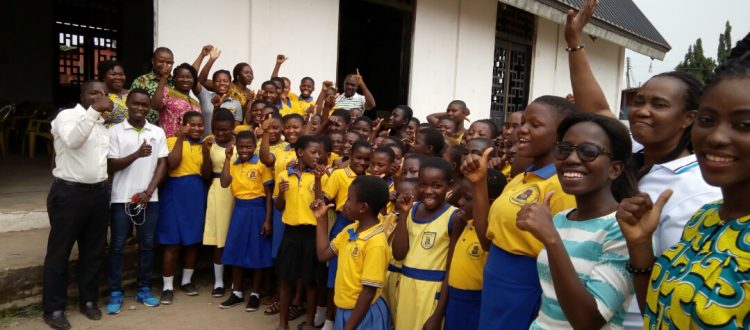 WHAT OUR YOUNG EXPLORERS HAD TO SAY ABOUT THIS TERM'S ROLE MODEL VISIT
The role model visit program is one of the strategic initiatives by The-Exploratory to expose basic school children to various career fields related to science. Through the program students get to experience 'one on one' interactions with seasoned professionals from varying professions in the field of science. This term's role model program saw the participation of all our science clubs in all four towns (Accra, Pokuase, Nsawam and Berekuso) and it was indeed a great success.
We were fortunate and glad to have the following career persons grace the occasion: Gbedjeha Koku, a graphic designer, Lydia Asare- Baah, a nurse, Isaac Kudu, a research scientist, Dr Maud Palm, a research scientist, Benedicta Appiah, a health professional, Edinam Attah, a civil engineer, Frederick Opoku, a research officer, Schandorf Sai, an IT consultant, Esther Kemeh, IT consultant, Francisca Lassey, fire officer and Francis Anim, an oil merchant
Here are a few comments we gathered from our young explorers concerning this term's edition of the program and we are delighted to share with you!

'Madam Esinam told us that if you want to be like a particular role model you don't only have to copy their lifestyle but also learn from their success stories', Sakyi Agyarkwa JHS
'Miss Esther is a computer engineer because she loved it and purposed it in her mind', Sakyi Agyarkwa JHS

'To become a better person in future, you must focus on your books', Sakyi Agyarkwa Primary B
'If we want to achieve our goal in life then we should avoid taking boyfriends or girlfriends at this age', Sakyi Agyarkwa Primary B

' We need role models to encourage us and that is exactly what The Exploratory did for us, the program has really changed our lives in a way', Pokuase Methodist 1 JHS
'Role models are more or less our inspiration, let's be curious about how they made it to the top and we must also be ready to take advice from them' Pokuase Methodist 1 JHS

'…being a member of the science club is not a right but a privilege so we must make very good use of this opportunity', Rangoon Camp '2' Primary School
'…once we are determined there is nothing we cannot do, we just need to identify our talents and work towards it', Rangoon Camp '2' Primary School

' we learnt that if you want to become a successful person in future then you will need someone to look up to or emulate', Abossey Okai R/C
'The role model visit is important because it encourages us to learn many things about different professions', Abossey Okai R/C
'Before you can become somebody in future you have to sit up and study hard',Abossey Okai R/C