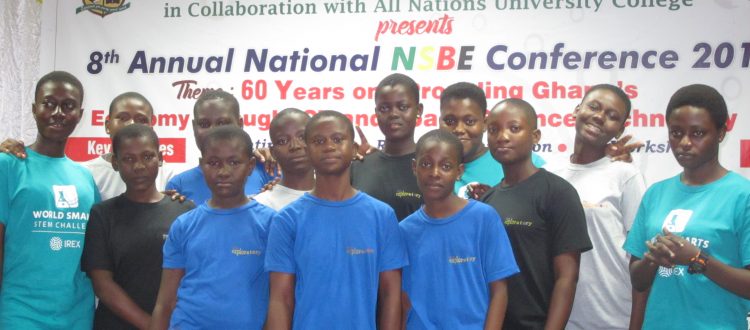 RECAP: 8TH ANNUAL NSBE CONFERENCE 2017
The 8th Annual Ghana National Society of Black Engineers (NSBE) Conference under the theme '60 years on- Propelling Ghana's Economy through ICT and Space Science Technology' came off from the 16th to 19th August 2017 at the All Nations University College, Koforidua. The three-day conference sought to bring together science enthusiasts across the country to enlighten them on the possibilities that lie within space science and ICT (information and computer technology) as tools for national development.
The conference was graced with the presence of renowned engineers and men and women of honour including Dr Nana Baah Boakye (Chairman for the event), Ing. Isaac Boakye (Guest Speaker), Mr. Emmanuel Oman (former dean, faculty of Engineering, Accra Technical University) and Mr Andrews Quaning (Ghana Education Service) who did not only see to the success of the program but also shared their rich experiences with attendees. Also in attendance were the Eastern Regional Minister Hon. Eric Kwakye Darfour and some representatives from Government.
The activity-packed conference engaged attendees in various activities including project exhibitions and presentations on robotics, satellite technology, hydraulic machines and 3D printing, quiz competitions and talk sessions. Click here for more.
The Exploratory's involvement
The Exploratory sponsored the participation of the ten-member team from Berekuso Basic School, which won this year's 'Solve for Ghana Design Challenge' in May, to the NSBE conference, together with two of their club facilitators.
At the conference this enthusiastic team, who were the youngest in attendance, not only took active part in the various activities but also took time to connect with other science enthusiasts and groups such as the robotics team from Methodist Girls Senior High School, staff of GhScientific, students of Accra Technical University – some of whom mentored the Exploratory team – and All Nations University College as well as other professionals who were present at the event. The club's teacher-facilitators who accompanied the students also took the opportunity to learn new skills as well as upgrade their knowledge in Space Science and ICT which we believe will be put into effective use during club activities and at the school.
We want to thank the ever energetic and good-spirited STEM champion  Billy James Dega for inviting our girls to this conference, and creating such a memorable event.