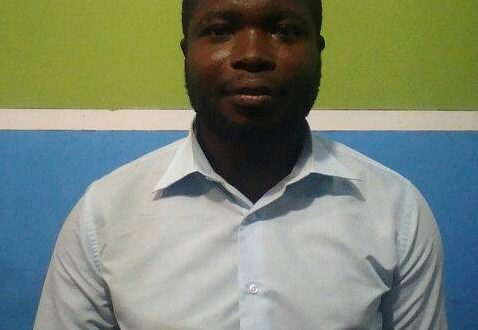 Saviour Okine – Assistant Program Manager
We're excited to welcome Saviour Okine to The Exploratory's program management team. As assistant program manager, he will have oversight of the Exploratory clubs and activities in Berekuso. Saviour brings a wide network and rich understanding of STEM practice and education, having been involved in STEM outreach, a biotechnology researcher and an agricultural science student. This breadth of experience will enhance our role model and field trip programs, as well as our teacher training and support system. Welcome, Saviour!
Saviour Okine graduated with honors with a bachelors of science degree in Agriculture from Kwame Nkrumah University of Science and Technology (KNUST) in Kumasi, Ghana. His final year thesis centered on plantain tissue manipulation and multiplication in vitro. After graduation, he was employed as a research assistant at the Biotechnology and Nuclear Agricultural Research Institute (BNARI) of the Ghana Atomic Energy Commission (GAEC).
Thereafter, he was a Scientist-in-Residence (SiR) of the Lab_13 Ghana project – a brainchild of UK-based Lightyear Foundation and Ignite!. Lab_13 Ghana focuses on the use of easily accessible and low-cost materials to perform activities based on students' curiosities and interests in STEM.
Saviour has a keen interest in science communication, project management, data collection and analyses. He volunteers with Practical Education Network (PEN) and GhScientific on numerous science-related trainings and reportages.
Why are you interested in The Exploratory?
The transfer of scientific knowledge has been my long cherished passion and as such, working with The Exploratory is an ideal one to avail myself to help young and upcoming students, especially girls, to appreciate STEM in its practicality.
Who is your role model and why?
Professor Kwabena Frimpong Boateng, the Ghanaian heart surgeon who is now the Minister of Environment, Science, Technology and Innovation. I like him for his selfless dedication and the giant strides he's made in science and medicine.
What's your favorite food?
I enjoy all local dishes, and especially boiled plantain with kontomire stew.