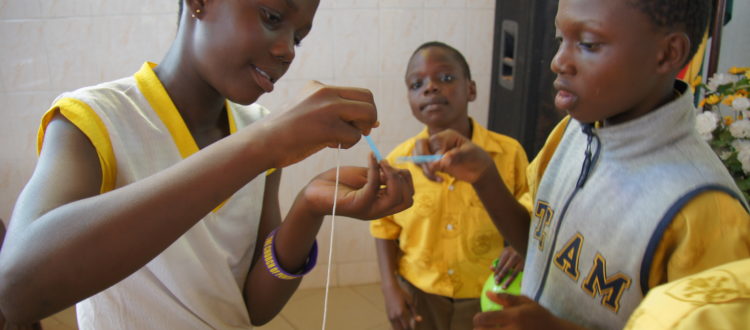 Children come alive when STEM comes around
The Exploratory, at the invitation of Airtel Ghana, made a visit to the Mataheko Roman Catholic Basic School on Tuesday, 27th July 2016 to join them at the year-end role model event for the primary school students. The event opened with an insightful talk by the gracious and encouraging Leila Khalid, from Airtel, aimed at enlightening the school children on the importance of STEM in their everyday lives.
This was followed by Mrs. Lucy Quist, Managing Director (CEO) of Airtel Ghana who shared her personal story, and encouraged the students to aim high, to work hard, and to realize the power of STEM to make the world a better place.
The students after being attentive to the talks, went wild during the 'spin the wheel' activity, led by the highly energetic Airtel Ghana team member Precious Baidoo, where the efforts of daring and smart students were duly rewarded after attempting some questions on STEM.
The second half of the event came with lots of fun and energy as The Exploratory team engaged the school children in a couple of practical scientific activities. Before this practical session, however, our adorable team members, Vivian and Mehak, led the school children in a song about breaking the myth surrounding STEM.
In demonstrating the phenomenon underlying the movement of rockets, the Exploratory Team challenged groups of students to make rockets using straws, balloons, threads and gums.
Amidst the cheers, applause and excitement that came along with this demonstration, the rest of the children also tried their hands on making paper planes, something the majority of them have never done before.
The fun, excitement and energy of the afternoon certainly dispelled some myths surrounding STEM. It also gave these awesome children a taste of The Exploratory's programs, which center on problem solving and creativity, and reaffirmed our goal to introduce more hands-on learning, as most of the students approached this practical session with great difficulty, notwithstanding their zeal to learn and overcome the challenge.
The Exploratory continues to hold on to its primary focus of making the world a better place with STEM and love!
More photos below.