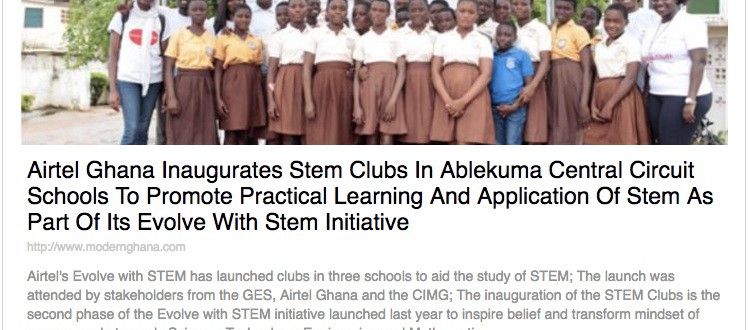 Advancing STEM in Ghana: Nurturing the next Curie, Hopper, Nyokong*
Another 90 students and 17 teachers will join The Exploratory's STEM Clubs, thanks to the support of Airtel Ghana. These clubs build on the excitement and aspirations that Airtel Ghana and the Evolve With STEM campaign has ignited through their role model visits and hands-on demos the past few months. The Airtel Ghana team has been tremendously welcoming and fun to work with. Click here to read about our STEM fair kick-off.
The hands-on STEM clubs give the students as well as teachers a chance to experience STEM as it's really practiced – full of ups and downs, fun, collaborative – and will make theoretical concepts come to life. At the end of the year, the students will have a chance to showcase their projects.
We are happy to partner with an organization that really gets that investing early in STEM education has great payoffs for these young people's futures, as well as the future of Ghana, Africa and the world.
The next Einstein, Curie, Tesla, Grace Hopper WILL come from the African continent.
*Tebello Nyokong is a South African researcher in nanotechnology. There are many like her – our goal is to nurture more!