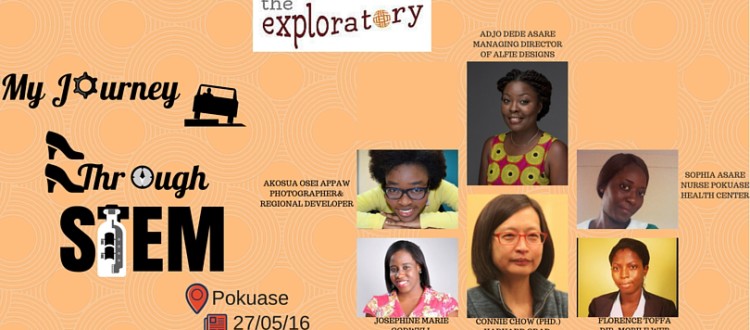 Meet our role models for the inaugural My Journey Through STEM event
On Friday, we will hold the first meet-a-role-model event, My Journey Through STEM, featuring the following five incredible Ghanaian women. We can't wait!!
Florence Toffa
Florence Toffa is the director of Mobile Web Ghana. She has more than 7 years in technology entrepreneurship. At Mobile Web Ghana, she oversees the training and incubation of the next generation of mobile technology entrepreneurs in Ghana.
She is a 2015 Vital Voices Lead Fellow and holds a two-year certificate in Software Entrepreneurship from Meltwater Entrepreneurial School of Technology, and a Bachelor of Arts degree in Psychology and Sociology.
Adjo Dede Asare
Adjo Dede Asare has over seven years of experience starting up and growing businesses. Dede is currently the Managing Director of Alfie Designs, a family-owned fashion company. As Managing Director, she sources contracts and manages the human resource staff, the fashion school as well as the company outlets and franchises within and outside Ghana.
Dede is also active in her church helping to organise quarterly soup kitchens and to provide healthcare services and vocational training for young women. Dede holds a Bachelor's Degree in Sociology from the University of Ghana and a Business Management Certificate from the Ghana Institute of Management and Public Administration. Dede plans to expand her fashion business internationally through both traditional channels and e-commerce while equipping young women with skills to bridge the unemployment and financial-independence gap.
Akosua Afriyie
Akosua Afriyie is a photographer by passion and a Regional Development Planner by profession. She mentors children and youth in her community and beyond to cultivate their passion and talents into a desired career. She also encourages the youth to read African literature by forming reading clubs and donating African authored books to basic schools in Ghana through her organization Dare To Dream Ghana. She volunteers with local organizations who specialize in providing leadership skills to the youth.
She has two Master's degrees in Population Studies and Regional Development Planning and Management and has over 2 years of experience as a development planner.
Josephine Marie Godwyll
As a Geomatic Engineer, she believes her ability to utilize digital tools for innovative projects like an Emergency Response System, were harnessed from her childhood as she was introduced to computer functionalities at an early age. She works with The Exploratory as program manager, guiding young girls to explore interest in (STEM) because she dreams to empower more girls to realize the utility of STEM to solve problems!
Her experience as a volunteer teacher in rural Ghana, where most children had never had any practical experience with computers, spurred Josephine Marie on to lead a revolution of practical and useful digital literacy for children. She does this through her organization, Young At Heart Ghana, empowering children with practical I.C.T skills of programming, robotics, digital art etc.
Sophia Asare
Sophia is a nurse at the Pokuase Health Center with over 4 years of experience. She studied at Sunyani Nurses' Training College and is passionate about encouraging more girls to pursue their interests in science.