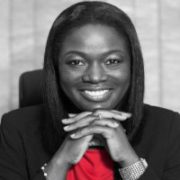 Meet our advisors: Lucy Quist. STEM champion. Trailblazer in engineering and business
The Exploratory is so honored to have Lucy Quist join our Council of Advisors. An engineer and a leader, deeply committed to inspiring the young people of Ghana and Africa through STEM and supporting them through mentorship, we look forward to this journey together to catalyze opportunities through education and circles of support. 
Personal accomplishments
Lucy Quist is the first Ghanaian woman to lead a multi-national telecommunications company. With the disciplined thinking and meticulous execution of an engineer, and the strategic insights of a world class leader, Lucy has become a celebrated and well-loved pioneer in the telecommunications industry in Africa.
Lucy has received multiple awards, the most recent being the Chartered Institute of Marketing Ghana (CIMG) Marketing Woman of the Year in 2015.
Giving back to the next generation through STEM
Ms. Quist is an exemplary role model who is 150% dedicated to mentoring the next generation, and developing the human potential around her – be they her team or the youth and women in the African continent.
In 2015, she launched the #EvolveWithSTEM initiative to ensure that young people in Ghana and in Africa understand that they can earn a living and/or make an impact through science, technology, engineering, and mathematics (STEM).
Hear Lucy talk about why she is such an avid champion of STEM in Africa.
The Exploratory is a proud partner of this initiative, to train teachers, and to establish Exploratory clubs in Accra.
Reaching back to the next generation of female professionals
Always eager to share the lessons learned in her journey and pave the path, Ms. Quist, together with 5 other female managing directors (CEOs) in Ghana, including Maidie Arkutu of Unilever; Freda Duplan of Nestle; Edith Dankwa of the Business and Financial Times, Pearl Esua-Mensah, of Feniks Limited, and Patience Akyianu of Barclays Bank Ghana, launched the Executive Women's Network in early 2016 to formalize how upcoming professionals and business-savvy women could be benefit from those who have forged the way, and from each other.
Lucy ascribes her motivation to create this mentoring network with her peers to the following idea:
"We should always have three friends in our lives; one who walks ahead who we look up to and follow, one who walks beside us who is with us every step of the way (and) one we reach back for and bring along after we have cleared the way."  ~ Michelle Obama