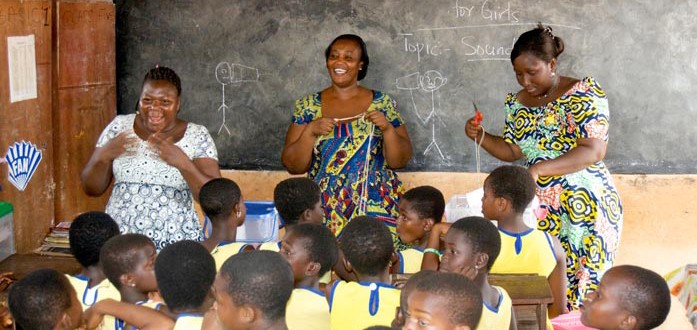 Teacher Spotlight: Judith Gaisie
Teachers are the unsung heroes in most societies. In Ghana for example, it is common to hear "The teacher's reward is in Heaven". The reality however, is that, "All professions can boast, but the teacher taught them all!" Here, we feature the story of Mrs. Judith Gaisie, a lead teacher of our exploratory clubs in Pokuase and a hero in every sense of the word! In the photo above, she's the one in the center, with her co-teachers.
Mrs. Judith Gaisie is a teacher at Pokuase Methodist Basic School. Her day typically starts as early as 6 am, when she reports to school and begins the process of empowering the future generation of leaders, movers and shakers!
The opportunity I have to empower children towards great careers, in the midst of challenges they face, is what spurs me on as an educator
Judith's dedication is rooted in her own story as child who grew up in a typical village amidst very unfavorable circumstances and yet persevered unto greatness.
Judith lived in a village with her parents and six other siblings. Due to the financial constraints her family faced, she started basic school at an age older than her peers. Despite the challenges, she excelled, demonstrating exceptional academic prowess. Her grades readily qualified her to enter secondary school, but she had to wait for a while for her parents to gather enough money to enable her to pursue further education.
Noticing her potential, her community members championed a communal action led by the chief and awarded her a scholarship to Apam Secondary School. She was bent on reading (studying) Science because she found it really interesting and intriguing.
"My parents thought I'd be a better art student than a science student. However, I believe girls should be encouraged to pursue their subjects of interest. If that subject is science they should be encouraged even more! By teaching in the girls science exploratory clubs I give others the motivation I lacked," Judith said.
Judith's favorite food is εtew and fried fish, typical of Fante women. When asked how she has made it this far, she stated, "God has been good, he has kept me motivated and focused. I owe it all to God, love and perseverance".
A true story told of an unsung hero who by all standards has defied all the odds and is making a bold statement for girls who desire to pursue science. What girls need are more of these heroes who will motivate and encourage them to study science and do more, not dream killers.
Judith you are a true hero. Kudos.