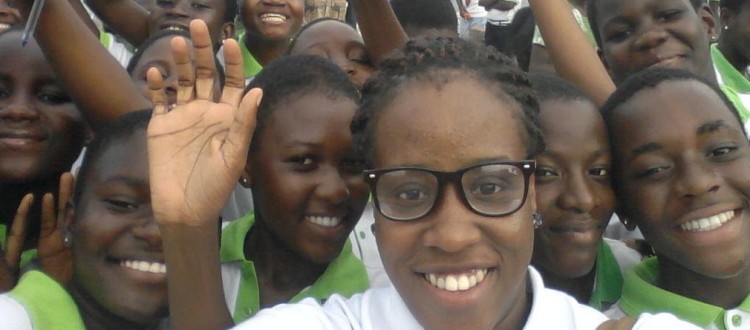 Welcome Josephine Marie Godwyll, program manager
We are delighted to have Ms. Josephine Marie Godwyll join our team as program manager of The Exploratory. Josephine brings rich experience in engineering, program development, STEM outreach, education technology, and volunteer management.
Josephine's primary responsibility will be overseeing the expansion of our Girls Exploratory Club in Nsawam, Berekuso and in Accra this year, as well as the ongoing clubs in Pokuase, as we double our enrollment overall.
In addition, she will roll out Meet a Role Model workshops, so the girls can be inspired by and interact with women in various stages of their academic and professional career; and imagine their own future more broadly.
Josephine herself is a tremendous role model – who exemplifies The Exploratory's motto of "STEM+Love = A better world". As she so beautifully stated, Josephine is an engineer by training and a social entrepreneur by passion.
Unlike many Ghanaian girls, Josephine had access to a computer when she was a young child, and was encouraged to pursue her interests and education in science and engineering. Once she connected with children in rural schools, and realized that she was not the norm, she worked to expand opportunities for everyone.
As the founder and coordinator of Young at Heart Gh, she has engaged hundreds of volunteers like her to reach over 2500 children in rural and deprived communities, given them a chance to use, learn and program with a computer. For this work, she was recently recognized as a Tigo Digital Changemaker. With her expertise, we will incorporate computer literacy and digital tools into our curriculum, delivery and monitoring, and into our operations.
I am passionate about the prospects of the future generation of Africans in developing problem solutions through the utilization of knowledge acquired from STEM.
Josephine exemplifies many young Ghanaians we have met over the years – smart, educated, tireless, creative in their thinking and dedicated to their country's and the continent's next generation and development. They are connected. They are savvy. They take risks, and seize opportunities. They are the now of the future.
Read her bio here to learn more about the other awards that she has garnered for her technical work and for her social entrepreneurial endeavors.
Welcome, Josephine, to our community!