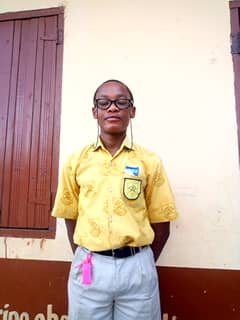 STUDENT SPOTLIGHT: ERNEST SELORM ABUDEY
Ernest Selorm Abudey is a student of St. Sylvanus R/C basic school at Pokuase in the Greater Accra region of Ghana. He is fourteen years old and in Junior Secondary school level 2. Ernest likes to read, draw and watch cartoons and documentaries. His favorite food is waakye, a popular Ghanaian dish. He aspires to be like Albert Einstein, the theoretical physicist and Leonardo da Vinci the polymath, he believes they all share the same talents.
Rev. Father Mark Nana Yaw, his mentor is a disciplinarian and a good teacher. His favorite subjects are mathematics, science and French language. Ernest finds great joy when he is able to solve and get answers to mathematical problems. He believes French language makes it easy to interact with others and also believes that practical science education which involves learning through experimenting is a good approach to learning.
He joined the Exploratory club because he found club meetings to be engaging and exciting to watch; especially with the use of simple materials such as test tubes and beakers. He also enjoyed the detailed explanations to scientific facts and concepts by club facilitators. After joining the club, Ernest has learned that exploration brings results and no answer is wrong and with confidence, it is possible to achieve our goals and aspirations. He can now perform experiments like pendulum and PH indicators which has also enhanced his understanding of some concepts in physics and chemistry. He also sees the need to share knowledge acquired from the club with his peers.
While growing up, Ernest wanted to become a medical doctor but now he wants to become a microbiologist because his father once told him that he possessed an analytical ability to differentiate between species. Generally, he loves science and won't mind pursuing a career in any of its related fields. He says one can achieve what they are committed to and have passion for. On his expectations from Exploratory, Ernest hopes that the club will set up a science facility in his school and provide more learning materials for exploration.
Mr. Akolgo, his science teacher and the lead teacher for the Exploratory club in his school stated that Ernest loves to explore. Mr. Akolgo added that Ernest is a good team player, co-operative, hardworking, punctual, curious and has an encouraging performance in school.
By: Priscilla Awuah