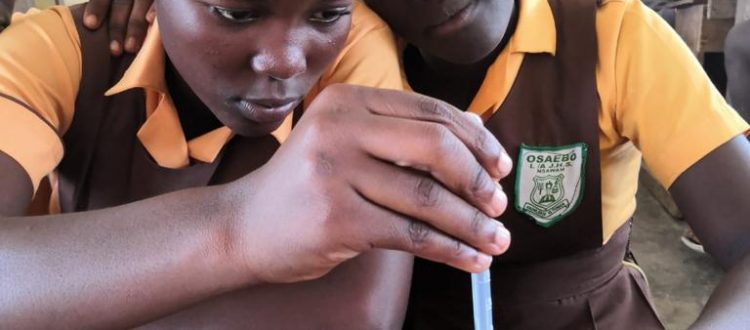 UP CLOSE WITH RICHLOVE ANSONG
With barely a week to the start of the Basic Education Certificate Examination (BECE), students are still finding ways to make up for the lost school hours during lock-down. As part of measures to curb the spread of the COVID-19 virus, the government of Ghana ordered the closure of schools in March this year. BECE candidates spent almost three (3) months at home with no contact with teachers or course instructors, quite an unpleasant experience for students preparing to take their final exams in basic school. In this interview, Richlove Ansong, a final year student of Osaebo Basic School and a member of the Exploratory Science Club shares her experience as a BECE candidate in this time of crisis, her plans for the future and her experience with the Exploratory club in her school.    
We know the COVID-19 pandemic has created a lot of problems for people especially BECE candidates like yourself. How has the pandemic affected you personally?
Okay, it has affected me a lot, both at home and at school. At home I will say it has affected my family financially because business activities have come to a standstill and my parents have been seriously hit. Also, we were supposed to write our final exam in June but because of this coronavirus pandemic the exam had to be postponed and this created a lot of uncertainty.
Do you think the timeframe for you to prepare for the BECE is enough?
Well, we were home for three (3) months and resumed on 29th June. I will say fortunately for us, we had treated most of the topics before schools closed down so I used most of my time at home for revision and solving past questions. When school reopened we continued with the revision and I think what we have covered so far is enough to prepare us for the BECE.
Are you confident about the exams you are about to write?
Not that confident but I am hopeful that I will do well.
Where do you hope to continue from here and what course will you like to pursue in senior high school?
I want to find myself in a very good environment, I mean a very good school. I want to read science in senior high school and from what I have heard, there are a couple of schools that do extraordinarily well in science, schools like GHANASS, Accra Girls, Aburi Girls, and Mfantsiman Girls. I will be very happy to attend any of those schools.
You are one of the four (4) students representing Exploratory in the ongoing JUNEOS Challenge, how has the experience been so far?
The JUNEOS Challenge I think is a great platform for us to prove what we've studied over the years in science both in class and during science club meetings. I am glad to be part of it.
Are you confident that you can win the competition?
Yes, I believe in myself that I can win the competition.
Talking about the Exploratory science club, how has it impacted your life as a student?
It has been good, ever since I joined my interest in science has improved a lot. I have also learnt that science is an everyday thing, it is practical and it is very easy when you make up your mind study and understand it.
Any message to final year students like yourself who are preparing to write the BECE?
All I have to say is that they should work hard and should not panic over the challenges that the coronavirus pandemic has posed to them. They can make it if they make up their mind to work hard.