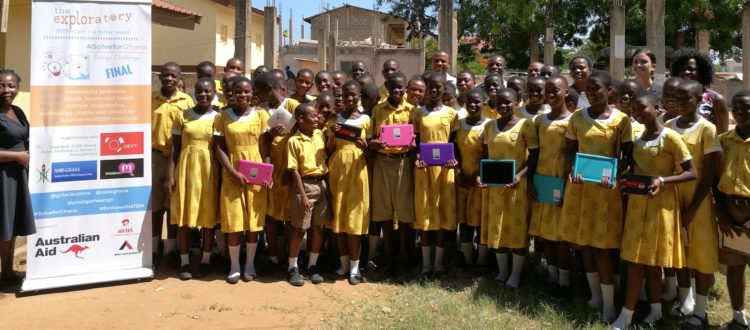 Australian High Commission Ghana Supports Science Education In Basic Schools
Published 31 May, 2017 in Modern Ghana and News Ghana
The Direct Aid Program (DAP) of the Australian High Commission Ghana has awarded a grant to The Exploratory, to support a learning revolution in science and ICT in basic schools.
"We are pleased that with the help of our DAP funding, The Exploratory has been able to increase students' interest in and engagement with STEM (science, technology, engineering and maths) at schools in Accra, Pokuase Nsawam and Berekuso, while also building the capacity of their teachers," Australian High Commissioner Andrew Barnes said.
With a mission to increase gender equity, the NGO primarily recruits the girl-child to its programs. Using science kits purchased with funds provided by this grant, teachers and students learn about electronics and optics through a "laboratory on a desk", and participate in a design challenge led by university mentors. The grant also makes available the digital learning resource, Remote Area Computer Hotspots for Education and Learning (RACHEL-Plus), that allows access to free web-based educational content without the internet.
On a recent visit to the Mateheko Roman Catholic and Abossey Okai Roman Catholic schools in the Ablekluma circuit in Accra, Second Secretary and Consul Justine Townsend and Direct Aid Program manager Vicentia Quartey sat down with the 30 or so Exploratory club members, who demonstrated to the honored guests how to construct electronic circuits with buzzers and lights, and pointed out how to troubleshoot the circuit should it not work as expected. Two members of the club also explained their design for a generator that was part of tthe #SolveforGhana Dumsor Design Challenge organized by The Exploratory the week previous, aimed at encouraging school children to find practical solutions to everyday problems using their STEM knowledge and skills.
"It is very impressive what you can do with all those bits and pieces [of the Science Set], how you understand the ideas behind them, and how you can make it work," said Ms. Townsend, addressing the Exploratory club members.
"We are most grateful for this grant, and to be one of the first STEM organizations supported by DAP in west Africa," The Exploratory's program manager Vivian Ayarick noted. The resources and training provided by this grant extend beyond The Exploratory's clubs and the duration of this project, as they are available to the rest of the schools' teachers and students.
"This grant to The Exploratory perforates traditional boundaries to bring STEM education in Ghana into the 21st century," said Dr. Connie Chow, the organization's founder and director. "The educational materials made available by this grant allows us to break down the boundary between after school clubs and the classroom; between girls' and boys' access to STEM resources; between static book learning and dynamic digital and hands-on resources; between learning for an exam and applying knowledge and creativity to solve authentic problems. All this help create a mindset in our youth that will benefit Ghana's development," she continued.
Mr. Victor Adolfoli, a JHS teacher, noted that the current practice of having these type of resources available mostly at the senior high school (SHS) level is a misplaced priority of GES, because primary and JHS students learn best by interacting with concrete things. He therefore expressed gratitude to the Commission and The Exploratory on behalf of the basic schools that are benefitting from this program.
The Exploratory's (the-exploratory.org) mission is to make STEM learning relevant, joyful, collaborative and equitable. Currently, The Exploratory has trained 65 teachers who engage 650 students in 16 schools in Pokuase, Accra, Nsawam and Berekuso in weekly STEM clubs, quarterly role model visits and annual field trips.
The DAP is a flexible small grants program funded by the Australian Government and managed through the Department of Foreign Affairs & Trade (DFAT) overseas posts. The program aims to support projects with a strong development focus that complements Australia's broader aid program which contributes to sustainable economic growth and poverty reduction.