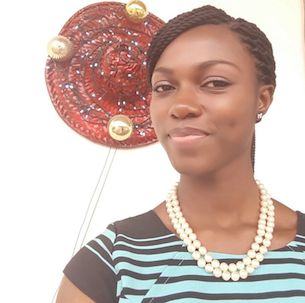 Featured Role Model: Maud Benneh, computer science grad
Life presents us with opportunities to learn and inspire others with the knowledge and experience we acquired. However, very few people appreciate this fact and probably explains why so many children continue to wander about in life with no one to look up to.
Not so for Ms Maud Benneh. She believe that whatever experiences one has had in their lifetime is enough to inspire someone else. Having graduated from the Kwame Nkrumah University of Science and Technology (KNUST) with a BSc in Computer Science, Maud's love for computers continue to deepen as she observes the changing trends in information technology. She is currently a national service personnel (similar to AmeriCorps in the US) at the Ghana Armed Forces Command and Staff College in Accra. Maud shared her experiences with our young Exploratory club members during our Role Model Visits Program organized last year in Nsawam. Her exceptional contribution to the success of the program pushed me to find out more about her journey through life as a science student and a lover of computers. – Christian Sackey-Acquah
I LOVE TO INSPIRE
Why did you choose to study science in secondary school?
Because I had great interest in Science and Maths from basic school, probably because these two subjects were in line with the career I wanted to pursue in future. I did all I could to protect the interest I had in these subjects and yes, I excelled!
What was the attitude of your classmates towards science at the girls' school, St Mary's Senior High School, that you attended?
It wasn't so strange, fortunately we all believed it was a matter of hard work and focus. One thing is, most of the girls I met in Senior High School especially in my class were ready to face the challenges of science as a course because they all had plans of pursuing careers in the field of science.
Tell me something about your university life?
I am a graduate of Kwame Nkrumah University of Science and Technology (KNUST). I must say it was an interesting journey. From meeting different personalities to balancing school work with other activities, I will say it was just awesome.
How was the experience like as a computer science student?
You know in our part of the world, computers are associated more with men than women, so reading computer science was like breaking the myth, just like The Exploratory song says (laughs). I think gradually people are also learning to appreciate the fact that females can be as good as males. My prayer is that more girls will have the courage to venture into this academic discipline.
…a number of guys in my class were quite prepared…but it didn't prevent me from focusing and getting help from them…
Did you receive any strong competition from your male counterparts? If yes, how were you able to survive such a tough academic environment?
The truth is a number of guys in my class were quite prepared for the program and had a strong IT background and that initially put them ahead in the program. But it didn't prevent me from focusing and getting help from them when I needed to.
Now back to life after university. How has your national service been so far?
So far so good! I am fortunate to have found myself in a nice working environment with nice people all around me. People who are willing to share with me their experiences either as members of the armed forces or as civilians working for the armed forces.
How have you influenced the success of the institution you were posted to with your knowledge or experience in science?
Having read a science-related course has influenced me to be a great team player, to be innovative and solution-oriented. You know, way back in school, we had to work on projects in groups with a collective goal of finding a solution to a specific problem. I have applied some of these skills and it is working perfectly well for myself and my colleagues.
What is your assessment of the role model visit organized by The Exploratory and how has that influenced your mentality about empowering girls to pursue careers in the field of science?
First of all let me thank The Exploratory for coming up with such a brilliant idea to inspire young girls to take up careers in science. I would also like to thank Christian for bringing me on board. I think in as much as I did my best to motivate them with the stories I shared about myself, I also learnt a lot from my encounter with these wonderful kids. Most of the kids were very eager to know more about IT and computers so I wasn't surprised when quite a number of them walked up to me to take my contact. It was both an interesting and a humbling experience to me. At the end of the day I was happy to have inspired someone especially in my chosen field, an opportunity I never had as child. I will also use this medium to call on more people who are excelling in their various professional fields to come on board to boost The Exploratory's effort in promoting science among basic school children.
What do you have to tell our young explorers who want to be like you in the near future?
My final words to the Explorers is that they should take their books seriously, set goals for themselves and strive to attain them. They shouldn't allow anyone to intimidate them because of their gender. They should remain strong and allow themselves to be guided by their interests and quest to succeed.