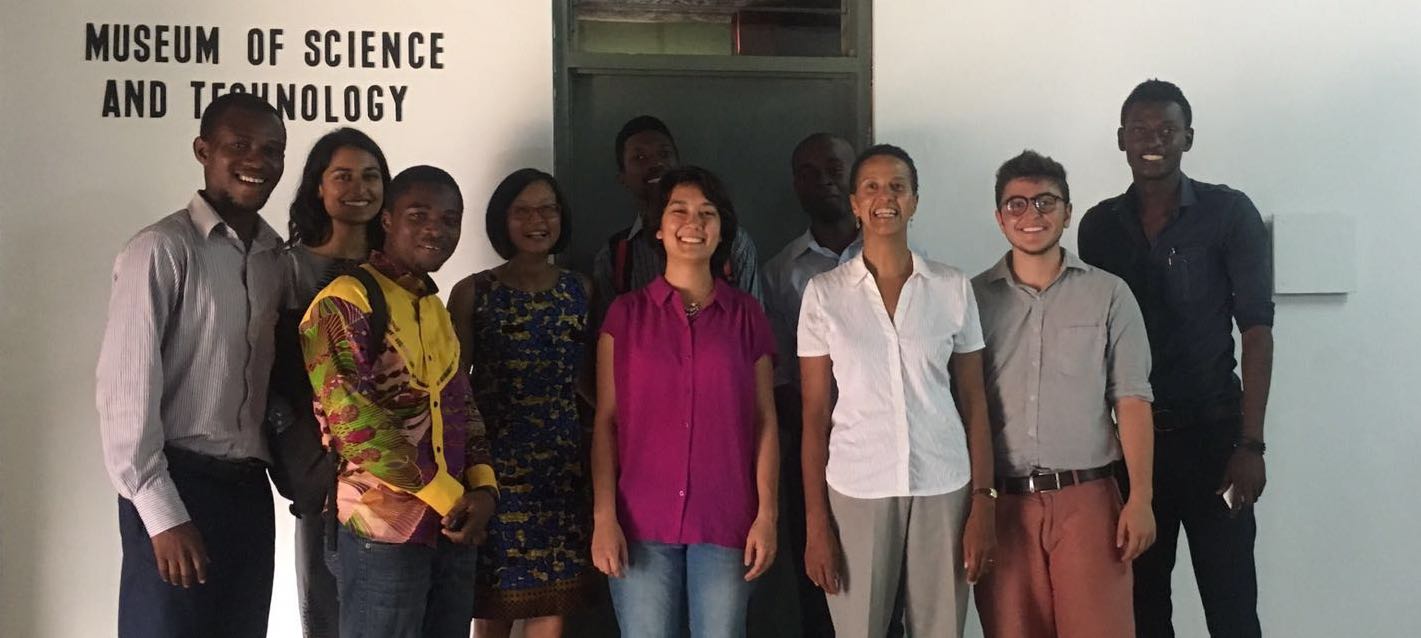 Starting a fire with a thousand points of light: STEM enrichment and education in Ghana
When I first visited Pokuase, Ghana, seven years ago, my point of contact was a community-based microfinance NGO, Women's Trust, which also had an education arm. It was through them that I connected to the schools with which we work to this day. I knew of no other organization that had a focus on science or technology education, except for a study abroad program through Providence College, led by Steve Mecca.
The last twenty months, I have seen an explosion of groups and individuals (I call them present future leaders) involved in STEM education and outreach in Ghana. The term STEM has caught on widely. The majority of these are (led by) Ghanaians. I'll introduce some of them below. This summer, I tapped a few of the people in my slightly more extensive network and started a WhatsApp group, whose running title is now the Ghana STEM Network. We had our inaugural meeting at the end of July, where we shared stories of our motivation and involvement in STEM outreach. We connected and reconnected. More of those to come.
The group allows us to share information and ideas, identify speakers and volunteers, explore collaborations and to cheer each other on as we celebrate program and student successes as well as personal ones. There is momentum to engage in advocacy and to organize a conference next year for educators and leaders to improve STEM education in Ghana directly and through policy change. If you're interested in joining the group or learning more, sign up here.
Informal STEM Education in Ghana
What I learnt was that, in many ways, the STEM education scene in Ghana is not that different than that here in Boston. People and organizations are using informal learning opportunities to introduce project-based learning, computational thinking and coding; engage students in research, creativity and building; some are building teacher capacity. The doldrum of challenges are familiar: enslavement to a testing regime, insufficient time for projects, space, resources. There's a similar buzz of intellectual excitement, enthusiasm, ingenuity, resourcefulness and desire to collaborate. And a vibrant spirit of volunteerism has been cultured.
There is a nationally televised math and science quiz. The Ghana Robotics Academy Foundation organizes competitions for junior high schools to colleges that allows winning teams to compete on the international stage. A very active NSBE Ghana chapter, under the leadership of Imoro Abdulai and Billy James Dega, connects professionals, university students and secondary school students in a web of support and encouragement. There are design challenges via Innovate Ghana, summer computer science and biomedical engineering immersion programs like ELiTE and a school for girls across the continent, the African Science Academy, a brick-and-mortar establishment in Tema, west of Accra.
The Ghana Planetarium Science Project, (yes, there is a planetarium in Accra) has been a hidden gem, having been established in 2009 by the visionary Dr. Jacob Ashong and Mrs. Jane Ashong, with much of the outreach and public programming overseen by volunteers like physicist Sarah Abotsi-Masters. Some, like DEXT (yes, named after Dexter) results from the alchemy of passion, experience and technical know-how of Charles Ofori and Michael Afrifa, who created a venture to produce the first lab-in-a-box Science Set, made possible because of newly established innovation and maker spaces like the Kumasi Hive, co-founded by Jorge Appiah, who also founded the Creativity Group, and Anne Lowe. A communalistic relationship exists between the GH STEM Center, founded by Silas Anku, and the Museum of Science and Technology, which hosts their robotics and creative STEM programs.
Other initiatives have been founded by women in traditionally male-dominated fields like engineering and technology, who have stepped up to the plate to create opportunities for young people. These include Tech Need Girls (now with an academy), headed by Regina Honu; Ghana Code Club by Ernestina (Tina) Appiah; Young at Heart Gh created by Josephine Marie Godwyll (who was our program manager for a brief stint); and Levers in Heels, a online portal curated by Larisa Bowen-Dodoo, to give women in STEM across Africa the spotlight they deserve and which young people need to see. Lucy Quist, CEO of Airtel Ghana, leads the #EvolveWithSTEM campaign to bring awareness of STEM and STEM champions to schools and to the public through in-person visits and a social media campaign.
GhScientific, created by Dr. Tom Tagoe, a neuroscientist, and his sister Hephzi Angela Tagoe, a PhD candidate, actively builds bridges between the world of research and the public through a science blog and writing competitions. GhScientific also makes connections in the analog world and with the younger generation through outreach programs like the Science Book Tour, the Welcome Trust funded SHAPE, a public health research and design project.
Most of these organizations deploy volunteers and role models; others, like us here at the The Exploratory, also empower teachers. NOVAN Education, founded by Miracule Gavor, and the Practical Education Network, co-founded by Heather Beem, an MIT Ph.D. engineer currently residing in Accra, are social enterprises that provide teacher / train-the-trainer workshops in person, while the Varkey Foundation's work in Ghana has been  via satellite. Lab_13 Ghana, inspired and catalyzed by an eponymous group started by Rick Hall and The Lightyear Foundation, started by Laura Youngson and Fran Ling in the UK, does both. And to come full circle, The Lightyear Foundation was inspired by the Ghana Planetarium and Jacob Ashong!
And any discussion of STEM education in Ghana cannot be complete without mentioning Gameli Adazho. A public health professional, a social innovator, a blogger, the Ghana Ambassador for the Next Einstein Foundation, his stint as a science teacher planted a seed that established Global Lab Ghana, a Facebook platform for educators, students and scientists, as well as a google group, Ghana Educators Network, which has inspired the creation of the Ghana STEM Network.
The people and organizations that are contributing to increasing access and quality of STEM education in Ghana, and who believe in investing in African solutions for Africa's future are a force to be reckoned with. The Ghana STEM Network is doing its part to gather the thousand points of light into a fire to fuel this revolution. Join us!